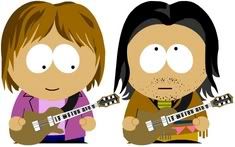 Oh this is fun. No love for you if you can't guess who they are.
I can't stop thinking about last night. It wasn't bad just...wow.
I picked up a printer today for $50, but I've got it home and it's not working. Which was always a risk. I hope my boys can fix it.
I had two cans of expired V for breakfast. I win. Oh, and I've had two coffees. I know I should be cleaning my room, but I can't be arsed.
I'm bored, and I'm going to be up all night. Someone please amuse me.
MK~
existing: Lewisham.
feeling:

creative
hearing: Gorillaz: Sound Check (Gravity)